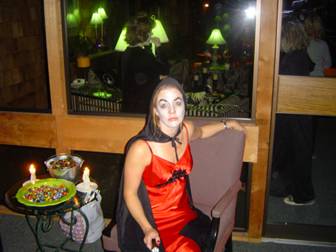 Your hostess of evening, Cara Jernudd
If you missed the Haunted Country Club on Halloween night you missed out on something very special. Not only was it a tremendous success, but it was put together by employees who volunteered their time and hard work for the benefit of the children (and some grown ups!) of Lake Forest.
We would like to recognize those employees who dedicated themselves and provided the people of all ages a good scare; Kenneth Eggers, Steve and Cara Jernudd, Scott Quinby, Gary Lisenby, Alisa Herrin, Gina Wilson, Debbie Waite and Amanda Drury. A special "Thank You" goes out to the families and friends of those employees who helped make the evening such a huge success. Although it was the adults that put it together, it was the teenagers and children who volunteered that put the "Haunt" in the Country Club!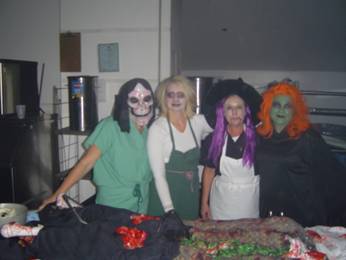 Amanda, Gina, Debbie & Donna cook up something special in the kitchen.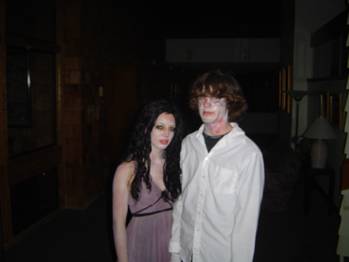 Jamie Sharpless & Zach Harper looking a bit ghostly